24 Hour Pet Care in Summit County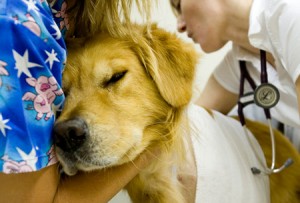 When the unexpected happens, you want a veterinarian who can be there.  That's why here at the BAC we have partnered with other Summit County vets to provide an emergency network for after-hours emergency care. This way you can be sure that any time of any day, you and your pet will be covered.
For after hours emergency care, call our regular clinic line and you will be prompted how to contact the on call emergency veterinarian.
FOR EMERGENCY CARE
What Should I Do if My Dog Needs Emergency Care?
Dogs who are severely injured may act aggressively toward their pet parents, so it's important to first protect yourself from injury. Approach your dog slowly and calmly; kneel down and say his name. If the dog shows aggression, call for help. If he's passive, fashion a makeshift stretcher and gently lift him onto it. Take care to support his neck and back in case he's suffered any spinal injuries.
Once you feel confident and safe transporting your dog, immediately bring him to an emergency care facility. It's also a smart idea to ask someone—a friend or family member—to call the clinic, so the staff expects you and your dog.
What Should I Do If My Dog Eats Something Poisonous?
If you suspect your pet has ingested a toxic substance, please call your veterinarian or the ASPCA Animal Poison Control Center's 24-hour hotline at (888) 426-4435. Trained toxicologists will consider the age and health of your pet, what and how much he ate, and then make a recommendation—such as whether to induce vomiting—based on their assessment.
If you have any questions about our services,
please don't hesitate to call or email us.