Emergency Pet Care in Summit County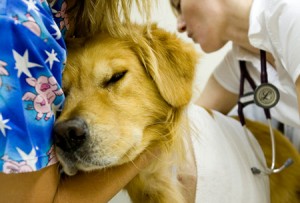 UPDATE July 2023 
Traditionally 24/7 emergency care has been provided by cooperation between 5 veterinary hospitals in Summit County including Breckenridge Animal Clinic, Buffalo Mountain Animal Hospital, Frisco Animal Hospital, Farmer's Korner Animal Hospital and Silverthorne Veterinary Hospital. 
Due to lack of participation at multiple hospitals, we cannot provide meaningful emergency coverage after hours and weekends. 
When there is no doctor available in Summit County, we recommend the following facilities in the greater Denver area:
Wheat Ridge Animal Hospital (WRAH) in Wheat Ridge – 303-424-3325
Veterinary Referral Center of Colorado (VRCC) in Englewood – 303-874-8783
Evolution Veterinary Specialists in Lakewood – 720-510- 7707
Colorado Animal Specialty and Emergency (CASE) in Boulder – 303-545-2273
Emergency Vets in the Denver Area
| | | | |
| --- | --- | --- | --- |
| | | | |
| | | 3550 S Jason St, Englewood | Cardio, Derm, IM, Neuro, Oncology, Ophtho, Surgery, Dentistry, Radiology |
| | | | |
| Veterinary Emergency Group (VEG) | (720) 996-1200 OR (720) 574-9834 | 5485 W 20th Ave Edgewood OR 3845 E Colfax Ave Denver | |
| Colorado Veterinary Specialty Group (CVSG) | | 401 E County Line Rd, Littleton | IM, Surgery, Radiology, Repro, Sports Med & Rehab |
| | | 10140 W 44th Ave, Wheat Ridge | ER/ Criticalist, Cardio, Dentistry, Derm, IM, Ophtho, Oncology, Neuro, Surgery, Radiology |
| CASE CO Animal Speciality & Emergency | | | ER/ Criticalist, IM, Cardio, Oncology, ER, Radiology, Neuro, Surgery, Ortho, Rehab |
| Animal Critical Care & Emergency Services | | 2201 Wadsworth Blvd Lakewood | |
| Evolution Veterinary Specialists | | 34 Van Gordon St Suite 160, Lakewood | Cardio, Surgery, IM, scope |
| Alameda East Veterinary Hospital | | 9770 E Alameda Ave, Denver | Anesthesia, Derm, ER, IM, Neuro, Oncology, Radiology, Surgery, Rehab |
| Colorado State University | | 300 W Drake Rd, Fort Collins | |
| Animal ER and Specialty Center (AESC) | | 17701 Cottonwood Dr, Parker | ER/ Criticalists, Anesthesia, Cardio, IM, Oncology, Neuro, Surgery, Radiology, Rehab |
| | | | |
What Should I Do if My Dog Needs Emergency Care?
Dogs who are severely injured may act aggressively toward their pet parents, so it's important to first protect yourself from injury. Approach your dog slowly and calmly; kneel down and say his name. If the dog shows aggression, call for help. If he's passive, fashion a makeshift stretcher and gently lift him onto it. Take care to support his neck and back in case he's suffered any spinal injuries.
Once you feel confident and safe transporting your dog, immediately bring him to an emergency care facility. It's also a smart idea to ask someone—a friend or family member—to call the clinic, so the staff expects you and your dog.
What Should I Do If My Dog Eats Something Poisonous?
If you suspect your pet has ingested a toxic substance, please call your veterinarian or the ASPCA Animal Poison Control Center's 24-hour hotline at (888) 426-4435. Trained toxicologists will consider the age and health of your pet, what and how much he ate, and then make a recommendation—such as whether to induce vomiting—based on their assessment.
If you have any questions about our services,
please don't hesitate to call or email us.