Saving Smiles & Lives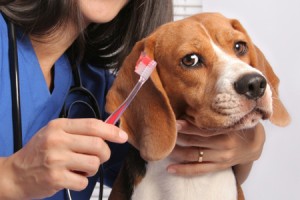 At the BAC we place a special emphasis on animal oral hygiene because we've see just how very important it can be for the health of your pet. 80% of pets have dental disease and untreated dental disease can lead to problems like heart, liver and kidney disease.
Veterinary dental services at the Breckenridge Animal Clinic include teeth cleaning and polishing, dental X-rays, tooth extractions, bonded sealants (fracture repair), and minor oral surgery.
We also have a dedicated dentistry room which allows us to offer expanded dentistry services, as well as a top-line digital dental X-ray machine. We utilize the safest available anesthetics to provide an extra margin of safety, especially for our older or high-risk patients.
Cats typically hide their dental disease under the gum line or it appears as gingivitis (redness of the gums). Cats are very susceptible to tooth root resorption which is a very painful process in which the tooth root deteriorates exposing the very sensitive tooth pulp. These teeth require removal to alleviate the pain. Dental x-rays are necessary to find such problems.
Dr. Cervelli is passionate about dental disease and oral health and has pursued additional training in these areas. Feel free to contact us about any questions regarding our pet dentistry services in Breckenridge: 970.453.0821
Why Worry About My Dog's Teeth?
While many of us may object to our pet's bad breath, we should pay attention to what it may be telling us. Bad breath is most commonly an indication that your dog is in need of a dental check up. Dental plaque caused by bacteria results in a foul smell that requires professional treatment. After a professional cleaning, the teeth and gums may be maintained in a healthy state by brushing the teeth regularly, feeding a specially formulated dental diet and treats, and avoiding table scraps. Your veterinarian can give you more tips on minimizing dental disease and bad breath.
Some dogs are prone to periodontal disease, a pocket of infection between the tooth and the gum. This painful condition can result in tooth loss and spread infection to the rest of the body. Veterinarians can clean the teeth as a regular part of your dog's health program.
You can clean your canine's teeth with dog toothpaste or a baking-soda-and-water paste daily. Stop by for a free toothbrush or use a child's soft toothbrush. You can even start with your finger as a toothbrush.
If you have any questions about our services,
please don't hesitate to call or email us.